A popular route trekked by many for the magnificent experience it has to offer with majestic snowpeaked Mt.Jomohari towering over you, stunning sacred turqoise lakes, glacial valleys and beautiful campsites. On this trek, you cross over Bonte la at 4890m and Takhung la at 4520m with highest camp altitude at 4180m.
Highlights
Arrive at Paro International Airport, check-into hotel, sightseeing in Paro
Elevation: 2,200m
Highlights
Steep uphill along dirt track reaching half point cafe, gradual sloap and downhill on steps and back up stairs to the monastery
Elevation: 3,120m
Elevation Gain: 520m
Hours Hiking: 4hrs
Milage: 6.4km
Highlights
rocky trail along river, need to pay attention when hiking, about 1 hr to camp after tibet junction
Elevation: 3250m
Elevation Gain: 400m
Hours Hiking: 5hrs
Milage: 17km
Trek Days: 1
Highlights
1 hour of rocky terrain,3.5 hrs to stupor on left of trail over bridge, 2hrs from stupor to stupor
Elevation: 3630m
Elevation Gain: 770m
Hours Hiking: 6-7hrs
Milage: 22km
Trek Days: 2
Highlights
2 hrs of rock/mud onto grassy plain meadows, from actual camp ground 2 hrs. to camp, 1 hr from school
Elevation: 4080m
Elevation Gain: 480m
Hours Hiking: 6hrs
Milage: 18km
Trek Days: 3
Highlights
Hike to glaciers and explore around/rest day to acclimatize and enjoy view of Jomohari mountain.
Trek Days: 4
Highlights
Steep 1 hr. then gradual to lakes, descend into a hidden valley, climb steeply to Bonte La pass at 4890m,descend to camp.
Elevation: 3800m
Elevation Gain: 810m
Hours Hiking: 6hrs
Milage: 16km
Trek Days: 5
Highlights
328ft climb to ridge, down to stream, uphill, down into valley, up to ridge, ascent to 14829ft, down to 13713ft to camp
Elevation: 4180m
Elevation Gain: 720m
Hours Hiking: 4-5hrs
Milage: 11km
Trek Days: 6
Highlights
climb out of valley to Thombu La 4380m, gradual down to 4000m, steep descent to trailhead and transfer to Thimphu, check into hotel and relax
Elevation: 2,300m 
Elevation Gain: 200m
Hours Hiking: 6-7hrs
Milage: 13km
Trek Day: 7
Highlights
AM: Largest Buddha Dordenma statue (54m), Folk Heritage Museum, Textile Museum, Craft Bazaar
PM: Kaja Throm Farmers Market and Free Time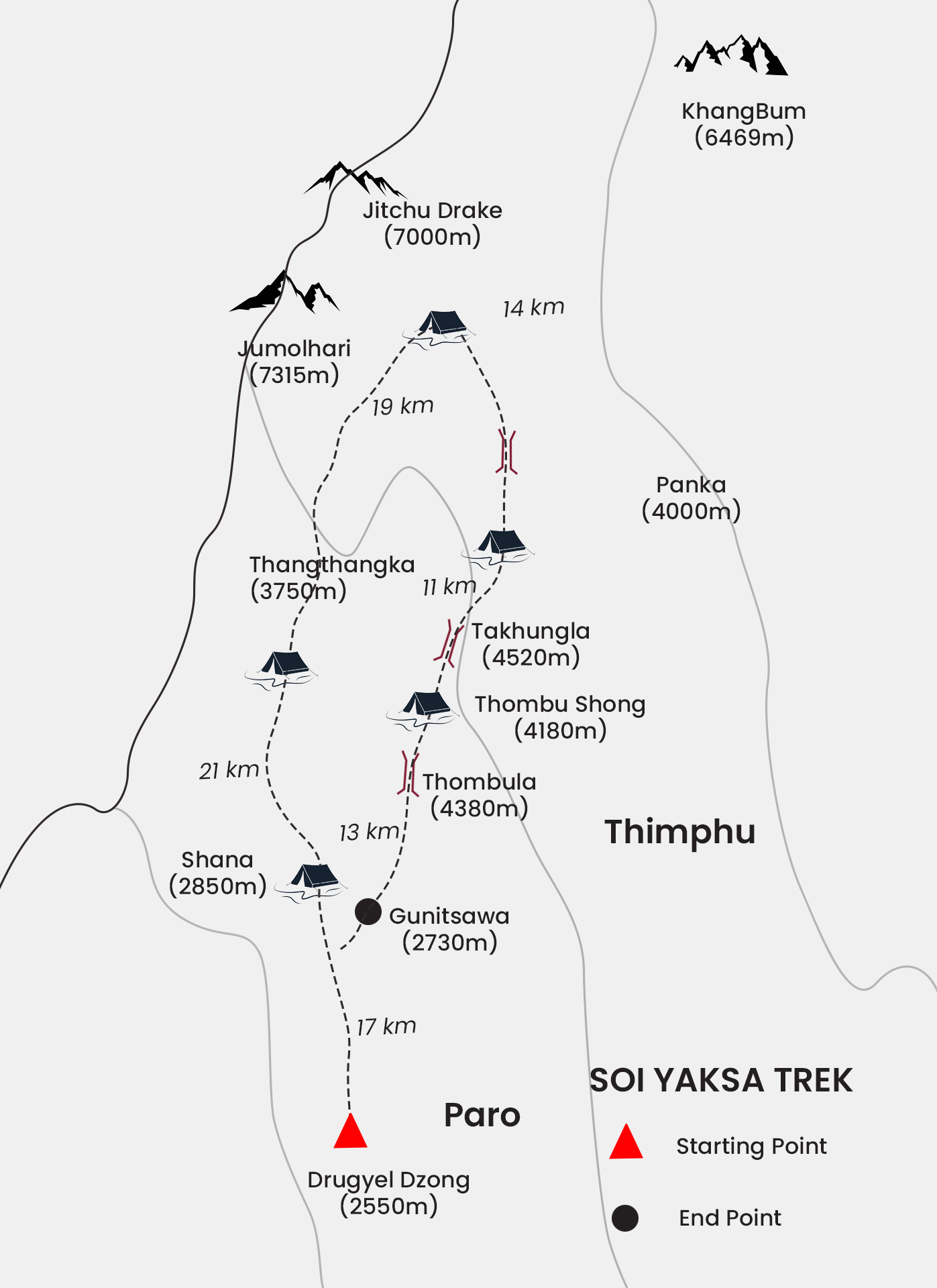 Starting from $1990 per person
Accommodation at 3* standard hotels during non trek days
All meals
Private vehicle transfers
English speaking tour/trek guide
Permits/Entrance fees
Sleeping Tents and Mats
Dining Tent, Kitchen tent, toilet tent
Camp Tables, chairs, utensils, hot water bags
Trekking chef & assistants
Horses to carry equipment's
Airfare
Visa fee $40 per person
Sustainable Development Fee $200 per night per person (payable to the government)
Sleeping bag
Laundry
Personal expenses such as drinks, phone calls, transfers
Anything not included in inclusions