Bhutan's tourism sector is regarded as one of the most exclusive travel destinations in the world. Bhutan enjoys a reputation for authenticity, remoteness and a well-protected cultural heritage and natural environment.
Today tourism is a vibrant business with a high potential for growth and further development. The Royal Government of Bhutan adheres strongly to a policy of 'High Value, Low Volume' tourism which serves the purpose of creating an image of exclusivity and high- yield for Bhutan.
The Vision
"To promote Bhutan as an exclusive travel destination based on Gross National Happiness (GNH) Values".
The tourism industry in Bhutan is founded on the principle of sustainability, meaning that tourism must be environmentally and ecologically friendly, socially and culturally acceptable and economically viable. The Royal Government of Bhutan recognizes that tourism is a world-wide phenomenon and an important means of achieving socioeconomic development particularly for a developing country like Bhutan.
Tourist Levy
Apart from a onetime visa fee of USD 40 per person, every tourist visiting must pay a Sustainable Development Fee (SDF) of USD 200 per night (which may be revised from time to time). The SDF contributes to social welfare programs, conservation of the environment, and the improvement of infrastructure and facilities for tourists in Bhutan. Visitors from India are exempted from the USD tariff but have to pay an SDF of INR 1200 per night.
Exemption and Concessionary Levy
The applicable Sustainable Development Fee will be exempted for:
Day visit tourists who do not travel beyond the first designated point are exempt from paying the SDF.
Children aged 5 and under are exempted
Concessionary levy of 50% for children aged 6 to 12 years
An e-visa will be issued for all tourists entering Bhutan and your visa will be stamped upon arrival. Visa processing usually takes about 3-7 Business days and the documents required are: 
Scan of passport with 6 months validity on departure from the Kingdom
Travel insurance valid for the duration of the trip.
A recent passport size photograph.
The visa fee is USD 40 per person and it is non-refundable.
Getting into Bhutan by Air or Land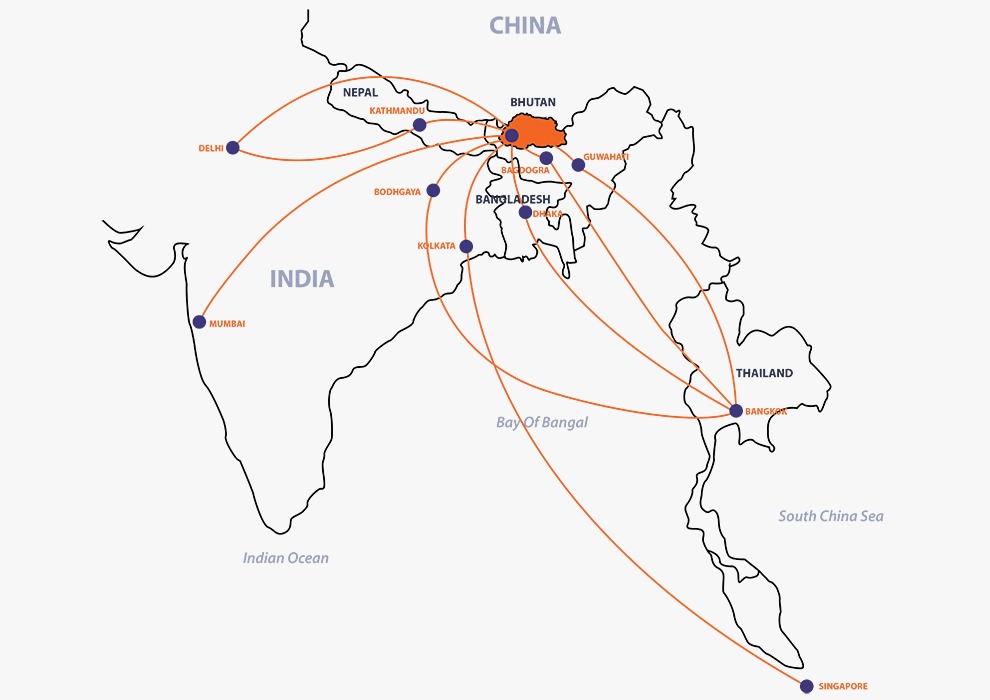 Paro International Airport (PBH) is the only international airport in Bhutan and only there are only two airlines that can fly you in; Druk Air and Bhutan Airlines. You may book your own flights online at https://www.drukair.com.bt/ or http://www.bhutanairlines.bt/ OR we can arrange to book your flights (at cost price) and add it on to your tour price; airfare is not included in your tour price.
Direct flights to Paro International Airport are available from the following destinations:
Bagdogra (IXB)
Guwahati (GAU)
Gaya (GAY)
Kolkata (CCU)
Kathmandu (KTM)
Dhaka (DAC)
New Delhi (DEL)
Bangkok (BKK)
Singapore (SIN)
If your city of origin is not listed, you will have to arrange for a connecting flight from your home to one of the airports listed. You may get in touch with us for flight timings and availability into PBH to coordinate your transit times for a connecting flight.
For those who prefer to enter/exit by road, the border between Bhutan and India are the only land access into entering Bhutan through Phuntsholing, Gelephu, and Samdrup Jonkar border gates.
Phuntsholing (south-west) borders the Indian district of Alipurdaur, West Bengal and driving distance from Phuntsholing to the capital city of Thimphu is approximately 146km. Gelephu (south-central) borders with Assam state in north east India and driving distance to the Thimphu is around 250kms. The third entry would be from Samdrup Jonkar (south-east), bordering with Assam state as well. Tourists entering from Samdrup Jonkar usually tour eastern Bhutan all the way to the west to the capital city and exit via Paro Airport.
Health and Medical Issues
We welcome all travelers, but request that you be in good health especially if your itinerary involves hiking/trekking/cycling activities. Please inform us if you have underlying health conditions/allergies that need attention so we can accordingly convey to your tour guide.
Although medicines are available at local pharmacies, it is recommended that you carry a small first aid kit from home with basic medicines that you are comfortable taking for cold, allergies, motion sickness; as roads in Bhutan are very winding.
Although Bhutan is a year round destination, it is good to consider weather conditions especially if you are planning a trek or outdoor adventures such as short hikes, motorcycling, or bicycling. Bhutan's altitude range from alpine peaks in the north-west and subtropical valleys in the south.
Springtime (Mar-May) brings with it spring showers but wildlife and flowers are most vivid during this time. During summer monsoon season (Jun-Aug), the weather is pleasantly warm but rainfall can be expected. Skies are clearer in the fall (Sep-Nov) making it a popular time especially for trekkers. Winter months (Dec-Feb) can get quite cold however skies are clear and snowfall can be expected in Jan or Feb and there are also fewer tourists around.
Average Temperatures in Bhutan
| | | | | | | | |
| --- | --- | --- | --- | --- | --- | --- | --- |
| MONTH | PARO | THIMPHU | PUNAKHA | TRONGSA | BUMTHANG | MONGAR | TRASHIGANG |
| JANUARY | 9.4 / -5.8°C | 12.3 / -2.6°C | 17 / 4.3°C | 13 / -0.2°C | 10.8 / -5.1°C | 15.5 / 8.2°C | 20.4 / 10.5°C |
| FEBRUARY | 13 / 1.5°C | 14.4 / 0.6°C | 19 / 7.8°C | 13.9 / 0.4°C | 10 / -1.4°C | 15.9 / 8.3°C | 21.7 / 11.5 |
| MARCH | 14.5 / 0.6°C | 16.6 / 3.9°C | 22.8 / 10.4°C | 16.7 / 4.4°C | 16.2 / 3.5°C | 20 / 11.6°C | 24.8 / 14.4°C |
| APRIL | 17.6 / 4.6°C | 20 / 7.1°C | 26.2 / 12.9 | 20.1 / 6.6°C | 18.7 / 3.9°C | 22.8 / 14°C | 28.3 / 17°C |
| MAY | 23.5 / 10.6°C | 22.5 / 13.1°C | 29.1 / 17.7°C | 21 / 11.6°C | 21.3 / 9.5°C | 25.1 / 17.4°C | 30 / 22.6°C |
| JUNE | 25.4 / 14.1°C | 24.4 / 15.2°C | 29.2 / 20.1°C | 22.2 / 13.6°C | 22.5 / 13.5°C | 26.1 / 19.5°C | 30.7 / 22.6°C |
| JULY | 26.8 / 14.9°C | 25.9 / 15.6°C | 30.4 / 20.5°C | 25.3 / 15.3°C | 24.1 / 13.6°C | 27.1 / 19.8°C | 31.5 / 23.1°C |
| AUGUST | 25.3 / 14.7°C | 25 / 15.8°C | 29.1 / 20°C | 23.8 / 15°C | 23 / 13.7°C | 25.4 / 19.6°C | 30.2 / 22.7°C |
| SEPTEMBER | 23.4 / 11.7°C | 23.1 / 15°C | 27.5 / 19.1°C | 22.6 / 14.2°C | 21.6 / 12.1°C | 24.7 / 19.4°C | 30 / 21.9°C |
| OCTOBER | 18.7 / 7.4°C | 21.9 / 10.4°C | 26.1 / 14.7°C | 21.8 / 11.7°C | 19.5 / 5.9°C | 22.7 / 15.8°C | 29.1 / 17.7°C |
| NOVEMBER | 13.9 / 1.4°C | 17.9 / 5°C | 22.6 / 9.6°C | 19.8 / 6.4°C | 16.1 / -0.5°C | 19.9 / 11.2°C | 26.1 / 13.6°C |
| DECEMBER | 11.2 / -1.7°C | 14.5 / -1.1°C | 19.1 / 6.3°C | 18.2 / 2.5°C | 12.3 / -2.3°C | 17.7 / 9.5°C | 23 / 11.6°C |
If for personal reasons you have to cancel your tour after you have paid, you will receive a full refund for any
cancellation made up to 60 days before date of arrival. The effective date of cancellation will be upon our
receipt of your notification and refunds for cancellations are subject to the following per person charges:
From date of arrival Charge

                                                   60 days or more Full refund
                                                   60 – 45 days 10% of tour price
                                                   45 – 30 days 25% of tour price
                                                   30 – 0 days No refund

**Please note that banks will deduct additional transfer charges**
If you have booked for luxury hotel accommodation, respective hotel cancellation policy will be applicable.
For flight cancellations, respective airline cancellation policy will be applicable. For self-purchase online, flight
cancellation policy is as mentioned here https://www.drukair.com.bt/Online-Purchase-Terms-and-Conditions.
If your flight has been booked visa us, a flat administrative fee of USD50 will be applicable.
A tour date change can be made at no additional fee. However, customers are requested to inform us as soon
as possible (before 30 days) to check the possibilities of a date change.
Currency, Credit Cards & ATM
The unit of currency is the Bhutanese ngultrum or Bu (BTN). Bills are issued in denominations of Nu 1, 5, 10, 20, 50, 100, 500, and 1,000. Coins come in 20, 25, 50 chetrum as well as 1 ngultrum. At the time of printing, the exchange rate is 74BTN to 1USD. The Nu is on par with the Indian rupee; which is also accepted in Bhutan. In addition, US dollars, British Pounds, and Euros are also accepted in some places.
Credit cards:  VISA and American Express are generally accepted at larger hotels and shops in the cities only.  Note that your credit card company may charge a foreign transaction fee (generally a percentage of the total sale).  Please note: It is common for places that accept credit cards to also charge an additional 3% bank charge.
ATMs:  ATMs in Bhutan accept MasterCard and VISA cards.
General Knowledge on Bhutan
Bhutan: Locally known as "Druk Gyal Khab" translated to "Land of the Thunder Dragon"
Official Language: Dzongkha (an offshoot of Tibetan). Most Bhutanese speak English, which is taught in schools.
Population: 754,388
Religion: 75% Buddhism, 22% Hinduism, and 3% Other
Government: Constitutional Monarchy
King: Jigme Khesar Namgyal Wangchuck (Wanghuck Dynasty)
Prime Minister: Dr. Lotay Tshering
Time Zone: UTC +06
Country code: +975
Driving side: Left
National Dress: Gho (Men) & Kira (Women)
Military: Royal Bhutan Army (RBA), Royal Body Guards (RBG), Royal Bhutan Police (RBP), & De-Suung (Guardians of Peace)
Note about Travel to Bhutan
Bhutan is an agrarian society where more than 90% of the local population lives on small farms and where religious practice dominates daily life.  It is also a society that mandates that for formal occasions, citizens must wear the traditional dress that has been worn for centuries.
As the country strives to balance tourism with preservation of their culture and traditions, please note the following:
Considered the animal most likely to return to earth in human form, dogs are highly regarded in Bhutan and are allowed to roam freely.  The sound of barking dogs can be an issue in Thimphu; you may want to pack some earplugs.
Bhutan is the only country in the world to absolutely ban the sale of tobacco products; in addition, the country prohibits smoking in public places.  You can bring in cigarettes for personal use at an import duty of 100%.
Please do not give candy or small trinkets to children.  Bhutan does not have a tradition of begging and does not want children to learn to expect anything from guests to their country.
Do not touch pets or feed any animals you may encounter.
Bhutanese regard statues and paintings as sacred; please do not climb on statues or otherwise act in a disrespectful manner towards such art.
As in many Southeast Asian countries, pointing with your finger is considered rude in Bhutan.  Rather than point, use your right arm with your palm open and facing upwards, with your thumb folded inside.
The phallus is a commonly used symbol in Bhutan, often painted on the side of homes and in other highly visible spots to ward off evil spirits.
Photography: The people of Bhutan do not mind being photographed, though as everywhere, it is always appropriate to ask first (via sign language, if necessary).  Please note, however, that photographing inside temples, monasteries, and other religious structures is prohibited.
Electricity: The electric current is 230 volts, 50Hz. Bhutan uses "Type C ," "Type D." And "Type G" electrical sockets.