The scenery on this route is one of a kind and a photographers dream with thick alpine forests, multiple lakes, rushing rivers, rolling hills with alpine flora & lastly, majestic Himalayan ranges. On this trek, you cross over two passes: Dala Tsho at 4520m and Utsho lake at 4300m with highest camp altitude at 4100m.
Highlights
Arrive at Paro International Airport, check-into hotel, sightseeing in Paro
Elevation: 2,200m
Highlights
Steep uphill along dirt track reaching half point cafe, gradual sloap and downhill on steps and back up stairs to the monastery
Elevation: 3,120m
Elevation Gain: 520m
Hours Hiking: 4hrs
Milage: 6.4km
Highlights
1.5hr drive to Genekha village base, start at suspension bridge and gradual climb on dirt trail, descend and walk along river, gradual climb again and reach campsite
Elevation: 3290m
Elevation Gain: 230m
Hours Hiking: 4hrs
Milage: 7km
Trek Days: 1
Highlights
Gradual climb on grassy and dirt trail across ridges and streams, climb to Pagalabtsa pass (4250m) with clear view of Mt. Kangchenjunga. Descend and pass through meadows and yak herder huts
Elevation: 4100m
Elevation Gain: 1010m
Hours Hiking: 6hrs
Milage: 12km
Trek Days: 2
Highlights
Exploration day of multiple lakes around and enjoy stillness of the highlands
Elevation: 4100m
Milage: 10km
Trek Days: 3
Highlights
Steep climb over meadows with spectacular views of the Himalayas, descend on rocky trails along a river to a beautiful campsite, Panka
Elevation: 4000m
Elevation Gain: 220m
Hours Hiking: 5hrs
Milage: 8km
Trek Days: 4
Highlights
Gradual climb on dirt track to Talela Pass (4180m), walk along ridge and meadows, descent through juniper and rhododendron forests on dirt and rocky trail to arrive at feeder road head.
Elevation: 2,300m
Elevation Gain: 100m
Hours Hiking: 7hrs
Milage: 14km
Trek Days: 5
Highlights
AM: Largest Buddha Dordenma statue (54m), Folk Heritage Museum, Textile Museum, Craft Bazaar
PM: Kaja Throm Farmers Market and Free Time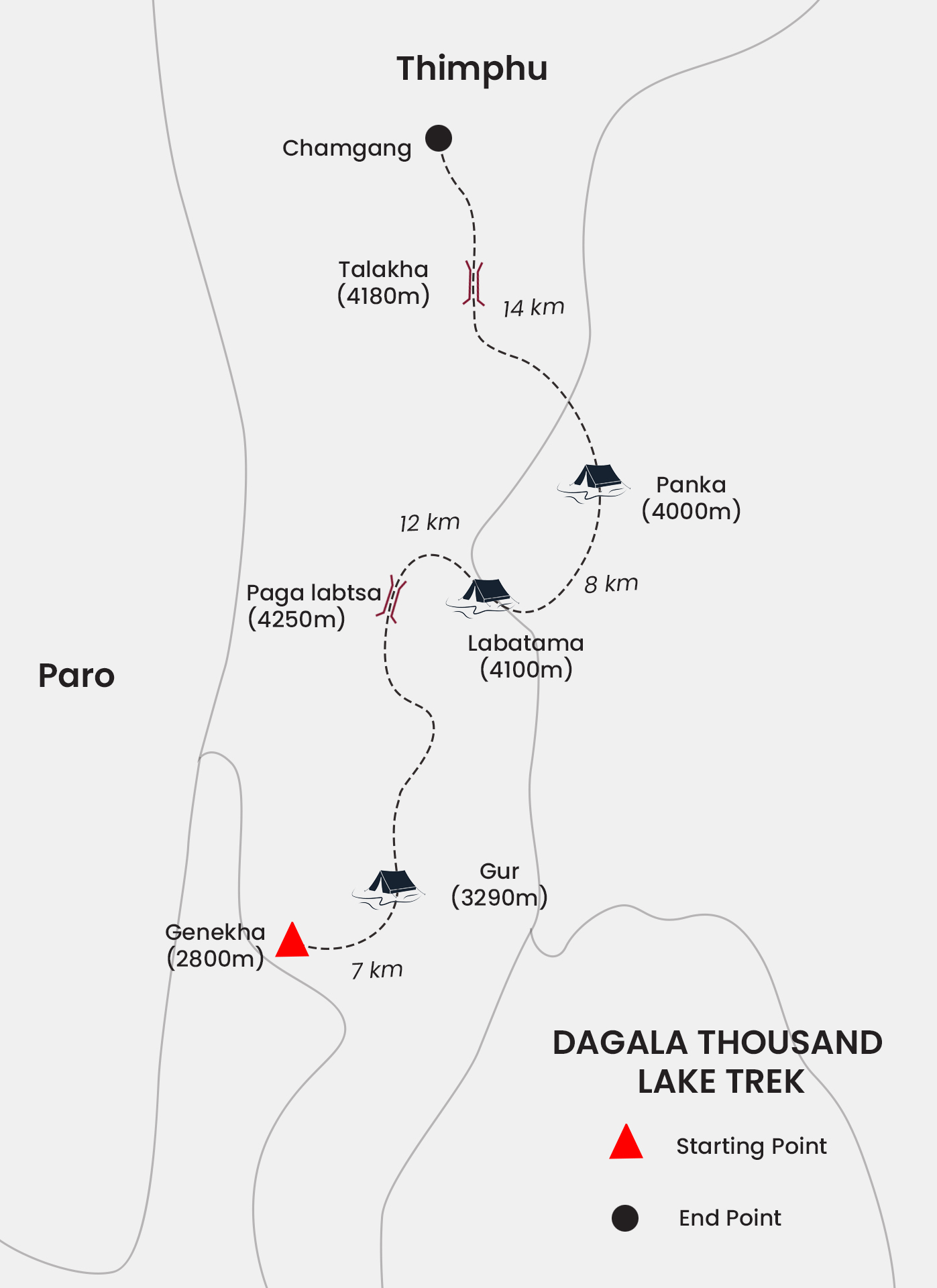 Starting from $1560 per person
Accommodation at 3* standard hotels during non trek days
All meals
Private vehicle transfers
English speaking tour/trek guide
Permits/Entrance fees
Sleeping Tents and Mats
Dining Tent, Kitchen tent, toilet tent
Camp Tables, chairs, utensils, hot water bags
Trekking chef & assistants
Horses to carry equipment's
Airfare
Visa fee $40 per person
Sustainable Development Fee (payable to the government)
Sleeping bag
Laundry
Personal expenses such as drinks, phone calls, transfers
Anything not included in inclusions